A Preview of Bomb Rush Cyberfunk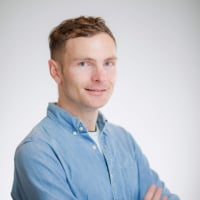 Team Reptile is rounding up work on Bomb Rush Cyberfunk, an upcoming action-adventure platformer that is looking to be one of the more promising releases of 2023. The spiritual successor to Jet Set Radio, Bomb Rush Cyberfunk has players skating and dancing around the city of New Amsterdam while painting graffiti and using hyper boostpacks. The game is scheduled to release on PC and Nintendo Switch on August 18, with Xbox and PlayStation versions coming out soon thereafter.
Bomb Rush Cyberfunk: a game inspired by Jet Set Radio
Bomb Rush Cyberfunk was officially announced at the August 2021 Nintendo Indie World Showcase, although some sneak peaks preceded its official announcement. A 14-second teaser for the game first dropped in June 2020 with a funky soundtrack backing footage of characters sliding on rails, dancing, nailing stunts, and spray painting a dynamic cityscape. Similar footage was presented in the Indie World Showcase announcement, as well as plot details about a newcomer building their crew with playable characters and vying for the title of All City King. The multifaceted game features a unique combination of dancing, skating, music, and more action and adventure set in a future cityscape.
If any of this sounds familiar despite its uniqueness, that's probably because Bomb Rush Cyberfunk takes inspiration from the beloved retro Jet Set Radio games, which lean on a similar fusion of skating and graffiti. On top of that, the new title will feature music by Hideki Naganuma, the same composer who brought fans the beats they know and love from Jet Set Radio.
Jet Set Radio first hit the Sega Dreamcast back in 2000 and impressed players with its revolutionary cel-shaded visuals, quality soundtrack, and gameplay loop that incorporated inline skating, spraying graffiti, and evading police. A sequel, Jet Set Radio Future, arrived on the original Xbox back in 2002, but the series went quiet after that, possibly due to disappointing sales. The sequel sold only 80,000 units in the US and 28,433 units in Japan in its first 6 months.
Developers: Team Reptile
Netherlands-based Team Reptile is the creative force behind Bomb Rush Cyberfunk. The team describes itself as "a cold-blooded independent game developer founded to make original games with style." The three other games made so far by this team are Megabyte Punch, Lethal League, and Lethal League Blaze. All of these fighting titles got good reviews—a good sign for Bomb Rush Cyberfunk, even though the upcoming title has a totally different vibe and is a lot more nuanced. The game takes place in "a world from the mind of Dion Koster," the Team Reptile artist and dancer best known for his work on Lethal League.
Storyline
Bomb Rush Cyberfunk is set in a city called New Amsterdam and stars a graffiti writer named Red whose head has been replaced by a cyber head. Red has joined the Bomb Rush Crew in search of his roots, and together with members Tryce and Bel, he hopes to tag the walls of New Amsterdam while searching for the person responsible for removing his head. If Red can spray graffiti all over the city—and look stylish while he does it, of course—his crew will earn the REP they need to gain control of the streets.
New Amsterdam is divided into five boroughs, each of which presents new opportunities and obstacles. Players can expect major differences between these zones on a visual front. The environments themselves are open-ended, allowing players to freely grind their way around as they try to reach the objective or just perform some cool-looking combos.
The key features of the game according to Team Reptile are as follows:
Bomb and get your name up by painting graffiti in different neighborhoods, each of which has spots for painting. 
Collect REP so you can challenge the local crew for the territory, though fair warning—Team Reptile notes that players will encounter a lot of weirdos along the way. 
Start your own cypher and dance, paint, trick, face off with the cops, and stake your claim in an acrobatic quest to become All City King. 
Master the unique trick system with grinding, sliding, wallrunning, and tricking in the air as well as on the ground.
Graphics and music
Much like Jet Set Radio, Bomb Rush Cyberfunk uses a cel-shaded art style to depict its funky world—complete with all the popping colors and cartoony character models. These features come together to make for some absolutely gorgeous visuals. Although Cyberfunk might not compare to many current-gen releases in terms of raw fidelity, it certainly has an inherent charm that makes it stand out against the crowd. 
The music in Bomb Rush Cyberfunk should sound familiar to fans of the Jet Set Radio games. Hideki Naganuma created the famed soundtracks of both Jet Set Radio and Jet Set Radio Future, and the composer was brought on to create brand-new music for Bomb Rush Cyberfunk. The enduring love and admiration for the Jet Set Radio games can in large part be attributed to the music in the games. The soundtracks are some of the most unique soundtracks of any game.
Gameplay mechanics
The moment-to-moment gameplay revolves around grinding on rails as you try to build momentum and perform all sorts of tricks by chaining acrobatic moves with one another. You can run alongside walls, slide great distances, and even do swift dashes in the air to cover large gaps between structures. Team Reptile has done a great job of nailing the slick movement mechanics, and everything from the animations to the feedback works in cohesion to create a smooth-flowing gameplay loop that looks highly satisfying to play. The following are some of the key gameplay features:
REP system. As you further your influence in the game by painting graffiti and making swift escapes from enemies, your REP score will increase. Once it reaches a certain threshold, you will be able to challenge rival crews to a Crew Battle—a climactic fight that moves the story forward.
Bomb rush mode. The main goal of the movement system is to let players go haywire with all sorts of tricks and chain combos. Once you get down with the basics and start performing long combos, you soon gain the ability to enter Bomb Rush Mode. This is a power-up that gives you an infinite boost for a short amount of time, and you can use it to cover great distances in a short span of time or help out with a last-ditch escape in a finicky situation.
Collectibles. Exploration will play an important role in the game, and player progression is largely tied to how thoroughly players check out every nook and cranny of each borough. You can find new pieces of clothing and graffiti pieces across the city—collecting these will help you express yourself better.
Rise and grind. Boostpacks help you perform more advanced tricks. In a recent gameplay video, Team Reptile showed off a 1080 spin Boost Trick. Landing this into a manual can keep the combo going, and coming at it from higher ground and landing it in a manual boosts your speed.
Police interactions. In the Jet Set Radio series, players are frequently chased by the cops, who try to grab and choke out players from behind. Cops use police vehicles, dogs, and helicopters to try and stop you from vandalizing public spaces. In Bomb Rush Cyberfunk, it looks like players will be chased by cops wielding batons, and one gameplay screenshot that features a man with a high-tech sniper rifle suggests that graffiti artists better watch their backs. It looks like there will be a heat-based threat system, like in Grand Theft Auto, where the militarized police will scale up its response as Red continues to tag each of the five boroughs of New Amsterdam.
Movement. The game features three different modes of movement, namely inline skates, skateboards, and BMX-style bikes. You can use any of the three options to glide across the environments, and stunts for each will be different and have unique animations. Regardless of the type of wheels, players will grind up poles, circle sharp corners, jump across gaps, wall-ride across billboards, and launch themselves up half-pipes, all the while seeking out spots to spray tags.
Bomb Rush Cyberfunk release date
Bomb Rush Cyberfunk is coming to PC and the Nintendo Switch on August 18, 2023. The title is coming to PC through Steam and not through Windows Store at launch. Team Reptile have confirmed that Xbox and PlayStation versions of the game will be coming out "shortly after" its release on PC and Switch. It will not be available on Xbox Game Pass on day one but will probably be available on the service at a later date, considering that Team Reptile's last title, Lethal League Blaze, was released on Game Pass in 2021. Make sure to check out the lineup of games available on Xbox Game Pass and see why Acer is an official sponsor.
Ashley is a technology writer who is interested in computers and software development. He is also a fintech researcher and is fascinated with emerging trends in DeFi, blockchain, and bitcoin. He has been writing, editing, and creating content for the ESL industry in Asia for eight years, with a special focus on interactive, digital learning.
Stay Up to Date
Get the latest news by subscribing to Acer Corner in Google News.