A Review of El Paso, Elsewhere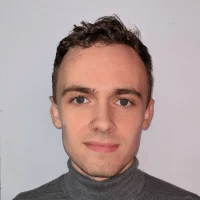 Strange Scaffold, Xalavier Nelson Jr.'s multi-development, multi-collaborator video game studio, has always been true to their name: since the beginning, they've been known for their eccentric games that feature mysterious plotlines and out-of-this-world atmospheres. Their upcoming release, El Paso, Elsewhere, is a novel third-person shooter that brilliantly showcases all of the magic the studio is famous for. 
You might know Xalavier Nelson Jr.'s work from titles like Stranger Things VR, An Airport for Aliens Currently Run By Dogs, Hypnospace Outlaw, SkateBIRD, or Can Androids Pray. Strange Scaffold's most recent release, however, is Space Warlord Organ Trading Simulator, a game true to its name and just as strange as it sounds. The game, described by Strange Scaffold themselves as "our critically-acclaimed sci-fi body-horror market tycoon," was well received when released in 2021, and as such the hype has been building for the next game in line, El Paso, Elsewhere.
El Paso, Elsewhere, the Max Payne-inspired neo-noir third person shooter with a surreal twist, is a hit that was released on September 26, 2023. In this review, we'll take a look at the design influences behind the game as well as what you can expect when it comes to storyline and gameplay.
El Paso, Elsewhere: the modern-day neo-noir third-person shooter
If you feel like you hear the term "neo-noir" thrown around a lot but aren't quite sure what it means, you're not alone. Though the concept has solid historical roots and represents a valid style, it's applied to so many things that it's become unclear what its meaning really is.  
The term neo-noir has its origins in the world of cinema. Though it is hard to say whether it is a genre or simply a visual style, for our purposes, we can say that it refers to "a grim tone, a mystery subplot, and/or a limited color palette." 
The "neo" in neo-noir implies, of course, that neo-noir is not the first iteration of its kind. That would be the film noir, or "dark film" in French. Film noir, pioneered by French New Wave director Jean-Luc Godard in films like Breathless (1960) and Alphaville (1965), emphasizes plotlines and subjects set in the underworld of society. The grim tone and uncertain attitudes towards the future represented in these films was characteristic of the postwar era.
Neo-noir took film noir to a new level. Films like Roman Polanski's Chinatown (1974) and Martin Scorsese's Taxi Driver (1976) took advantage of the end of the Hays Office Code, a set of standards for film production that in effect was a list of censorship guidelines, to depict more controversial topics like drugs and crime. Themes of these neo-noir movies also dealt with moral ambiguity and general distrust of authority, reflecting the societal ambivalence that followed the Vietnam War and the Watergate scandal.
Besides neo-noir, however, El Paso, Elsewhere also takes a lot of its inspiration from the Max Payne series. In many ways, El Paso, Elsewhere can be said to be a modern-day version of the Max Payne series, the first game of which was released in 2001. We'll take a closer look at the differences and similarities between these two games in the next section.
Storyline and gameplay
As the Steam description states, "El Paso, Elsewhere is a supernatural neo-noir third-person shooter. Hunt werewolves, fallen angels, and other damned creatures in a vivid slow motion love letter to action classics. Fight your way through a reality-shifting motel, floor by bloody floor. Save the victims of Draculae, lord of the vampires. Destroy the villain you loved--even if it means dying yourself."
You'll play as James Savage, whose ex-girlfriend Draculae is out to destroy the world. You'll have to navigate the unending floors of a seedy motel with the objective of saving the innocent through the elevator. To complete your goal of saving the world from Draculae's wrath, you'll have to battle hordes of undead creatures, including vampires, fallen angels, and the lord of the vampires herself, Draculae.
As you continue your mission, you'll be shown some flashbacks that shed light on Savage's relationship with his ex-girlfriend and what caused them to break up. In doing so, the game deals with some pretty heavy subject matter, including addiction, trauma, and emotional abuse. This makes for a potentially upsetting but also very compelling story.
In many aspects of gameplay as well as some aesthetic characteristics, El Paso, Elsewhere  takes inspiration from Max Payne. Specifically, El Paso, Elsewhere borrows the third-person shooter aspect of Max Payne as well as its gritty neo-noir style. It also takes many cues from its predecessor in terms of gameplay: in both games, you can use slow motion as a tool to improve your own reaction time and vanquish several enemies at once.
In terms of weapons, you'll have access to a range of tools both modern and ancient: uzis, pistols, stakes, and more. You can even use molotov cocktails with holy blue flames to attack your enemies, adding a supernatural touch to your attacks. With a combination of the game's heavy use of slow-motion mechanics and diversified arsenal, you'll be sure to find that the fights are a huge aspect of the game's appeal.
This technique was highly innovative when it was incorporated into Max Payne in 2001, as it was the first time that Matrix-style slow cuts were ever seen in a video game. El Paso, Elsewhere pays homage to this aspect of video game history.
Where El Paso, Elsewhere departs from its source of inspiration is in the main antagonist of the game: as one review on Gamerant notes, instead of going after the mob, you're going after zombies. This makes each battle more interesting: whereas in Max Payne, all of the mobster enemies are somewhat similar, the otherworldly creatures in El Paso, Elsewhere add a layer of novelty and excitement.
For some players, Max Payne can become somewhat monotonous, as you must constantly defend yourself against hordes of the same mob enemies. In El Paso, Elsewhere, you are kept on your toes: your strategy must continually change to deal with different types of creatures, including werewolves, vampires, or ambiguous beings that leap out at you out of nowhere.
Conclusion
Can't wait to get your hands on a copy of El Paso, Elsewhere? If you're looking forward to the release, you won't have to wait at all: the latest game from Strange Scaffold is available for purchase now for both Xbox and PC.
Before you start your mission to save the victims of Draculae, however, you'll wanna make sure your gaming setup is up to date and able to process the game in all of its glorious detail. With a high-quality gaming laptop like the Nitro 5, you can equip yourself with a state-of-the-art Intel® Core™ i5 processor and a top-notch 1920x1080 screen resolution to succeed in your journey and have fun doing it.
Loaded with the latest technology, the Nitro 5 is available for $999.99, and when you add additional items like the Predator Connect W6 Wi-Fi 6E Router, you can save up to 40%! The savings don't end there, however - with the purchase of any ACER Windows 11 PC, you'll get an Xbox Game Pass for free! That means you'll be able to play El Paso, Elsewhere the moment it comes out for no additional cost.
Don't hesitate - get your Nitro 5 now so you can get the most out of your gaming experience as soon as El Paso, Elsewhere now!
Matthew is a freelance content writer whose work has previously appeared in well-known language-learning blog Fluent in 3 Months and The Happy Self-Publisher. His creative work has also appeared in Otoliths, CafeLit, and the Eunoia Review. He is currently based in Taipei, Taiwan, where he is studying for a master's degree in Chinese Literature.
Stay Up to Date
Get the latest news by subscribing to Acer Corner in Google News.