5 Windows Apps That Help You Be More Creative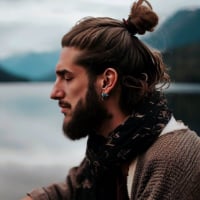 If you're looking to improve your creativity and get more out of your PC, using some of the best creative apps for your Windows computer is a great place to start. 
When you spend time in the Microsoft Store on your Windows PC, you'll undoubtedly find an endless supply of creativity-boosting apps. But finding the best app is really what you're after. And as Windows 10 users increasingly migrate to Windows 11, they're finding even more compelling Windows apps — and don't know where to turn. 
So, whether you're looking for the best drawing or note-taking apps for Windows, or you simply want to be more creative in how you use your Windows PC, you've come to the right place. To help you in your search, we've outlined five outstanding Windows apps for creatives that will help you edit photos, boost your music skills, enhance your drawing, and give you a new take on note taking. 
Adobe Photoshop 
Adobe Photoshop is one of the premier creative Windows apps on the market. And it's arguably one of the best ways for you to express yourself creatively. 
Adobe Photoshop features the ability to edit and touch up photos of all types including JPEGs, PNGs, TIFFs, and others. It also comes with a host of editing tools that let you create unique artwork. 
If you want to try before you buy, you can even check out Adobe's "lite" version Photoshop Elements, which comes with many of the photo-editing features you'd expect in Photoshop without some of the more advanced tools. 
Adobe Photoshop is available in a free trial. 
Leonardo 
When you're looking for the best drawing apps on Windows, Leonardo may be among your top options. 
Leonardo is a full-fledged drawing and sketching Windows app that allows you to create unique drawings or start with another creation and shade or color it in. Leonardo also comes with an infinite canvas so you can try out different ideas. And with a host of brushes and tools, you can create unique and awe-inspiring creations from your Windows PC. 
Leonardo works with the best touch and non-touch Windows computers and in addition to drawing, can be used to replace your existing Windows note-taking apps. 
Edjing Pro 
When it comes time to convey your musical talents from your Windows computer, look no further than the edjing Pro music DJ mixer to help you do just that. 
Edjing Pro is a full-featured DJ mixing Windows app that lets you establish beat localizations, change up beats per minute, access your music library to mix songs, and so much more. Edjing Pro also connects to Deezer and Soundcloud, and its fader and equalizer features are designed to mimic a real-life DJ setup. 
Best of all, edjing Pro gives you full DJ powers on your Windows PC at an affordable price. 
LiquidText 
LiquidText may be the best note-taking option available in the Microsoft Store. 
LiquidText comes with the ability to easily capture notes from a host of file types including Word documents, PDFs, and others. And with support for Dropbox and Box importing, as well as e-mail integration, you can easily pull excerpts, documents, and other content into LiquidText. One of the best features in LiquidText is its ability to work across the many Windows apps on your computer and easily integrate everything you need. 
Aside from notetaking, you can even count on LiquidText to annotate your notes, search for keywords, and compare content across apps. Best of all, LiquidText is available for free. 
GuitarTab 
GuitarTab is the ideal choice for any musician who wants a Windows app that can help them experience music in new and exciting ways. 
GuitarTab is home to more than 800,000 free guitar tabs, bass tabs, drum tabs and chords. With this Windows app, users can learn how to play guitar, drums, or other favorite instruments, and improve how well they play. And with help from Last.fm's search feature, GuitarTab users can find artists and tracks on the service and learn chords from their favorite tunes. There's even a YouTube integration in GuitarTab and a search filter to round out its features. 
GuitarTab is available in the Microsoft Store for free. However, it comes with a host of in-app purchases to broaden its appeal. 
Joe is a writer with a passion for gaming, technology, and language learning. Joe has a knack for turning complex tech jargon into easy-to-understand prose. He's a lifelong gamer, having grown up playing classic console games like Super Mario Bros. and The Legend of Zelda, and now enjoys exploring the latest virtual worlds on PC. His interests don't stop there – he's also an avid language learner, currently studying French and Portuguese in his spare time. Whether he's writing about the latest gaming trends, reviewing cutting-edge tech products, or sharing language learning tips, Joe brings a fresh perspective and infectious enthusiasm to everything he does.
Tagged:
Stay Up to Date
Get the latest news by subscribing to Acer Corner in Google News.