5 Large Screen Laptops for Power Users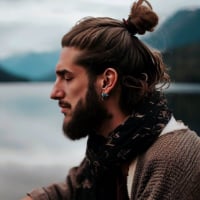 The term "power user" has specific connotations regarding the worlds of both personal and professional PC users.  
To be a power user in the truest sense, you need to have a greater degree of knowledge of PCs and better proficiency with computer skills than the average user.  
In administrative circles, power users are often given greater responsibilities and rights to help in managing a specific program or system. There are several different groups of professional activities in which it is a benefit to be a power user, including scientific research that involves computer use, graphic design, audio production, and video editing. 
To get the most out of being a power user dealing with large amounts of data, files, and CPU-straining programs, you need a laptop equipped with a large screen and sufficient hardware to support your personal and professional endeavors. Whether you employ your power user skills for work or pleasure, these laptops will increase your productivity, enhance your user experience, and help deliver incredible performance while seeing every pixel in stunning detail. 
Acer Aspire 3 17.3-inch HD+ Laptop 
If you are in the market for a laptop that offers incredible value while delivering results, the Acer Aspire 3 represents an ideal solution. With an impressive 1600 x 900 Acer ComfyViewTM LED-backlit Display and Intel UHD Graphics, this laptop offers a remarkable level of durability and is made entirely from plastic.  
In addition to its already impressive hardware, the Acer Aspire 3 also provides plenty of room for further upgrades, including a 2.5-inch SATA drive and two SODIMM RAM slots that can hold at least an additional 16GB of RAM. 
The 17.3-inch Full HD IPS screen offers a high contrast ratio of 1080:1 and a maximum brightness of 299 Nits while providing comfortable viewing angles. With keyboard functions including a multi-touch capable ClickPad and flat keys with clear pressure points and short travel distance, this laptop is ideal for academic studies and everyday office work. 
Nitro 5 15.6-inch Gaming Laptop 
Power users looking to take their gaming experience to even greater heights would be well served with the Nitro 5 Gaming laptop. With a 15.6-inch Full HD (1920 x 1080) 16:9 display with a refresh rate of 165Hz, you'll be able to play your favorite graphics and performance-heavy games without fear of graphic distortions like clipping and stuttering. For those unsatisfied with the already incredible 1080p and built-in G-Sync functionality, you can game and enjoy entertainment in a full 1440p for added realism and immersion. 
Featuring a powerful 1TB NVMe PCIe SSD and room to install a 2.5-inch HDD, powerful AMD Ryzen 7 5800H processor, NVIDIA GeForce RTX 3070 8GB (100W) GPU, and 16GB DDR4-3200 of RAM, this rig is built for gaming from the ground up. Connectivity options include a USB 3.2 Type-C Gen 2 port, USB 3.2 Gen 2 ports, two USB 3.2 Gen 1 ports, an HDMI 2.1 port, and an ethernet port. 
Acer Aspire 5 Full HD IPS Display 17.3-inch Laptop 
Futureproofed with the inclusion of Wi-Fi 6, an Acer Fingerprint Reader for additional levels of biometric security, and a 17.3-inch Full HD (1920 x 1080) IPS Widescreen LED-backlit Display with Intel Iris Xe Graphics, the Acer Aspire 5 provides a great balance between power and portability. Unlike many laptops with a 17-inch or greater screen, the Acer Aspire 5 weighs in at a relatively lightweight 3.75 pounds. As a result, you'll be able to easily bring it with you to work or play in your favorite purse, bag, or backpack without experiencing strain.  
With 8GB DDR4 of RAM, which can be expanded to 20GB, and a 512GB NVMe SSD, this laptop also offers sturdy design features, including a metal enclosure that protects the keyboard and screen from accidental drops. Impressive contrast levels, combined with natural colors and comfortable viewing angles, make the Acer Aspire 5 an excellent mid-level PC with excellent value for money. 
Predator Helios 300 15.6-inch Laptop 
Possessing a 144Hz, 1,920-by-1,080-pixel 15.6-inch display housed in an attractive black aluminum chassis, the Predator Helios 300 laptop offers desktop quality gameplay in a far more portable package. With an Intel Core i7-11800H processor Octa-core 2.40 GHz, 2TB of PCIe SSD storage, and 32GB of DDR4-3200 RAM, this beast of a gaming laptop is more than capable of keeping your gaming at peak performance. Having eight cores and sixteen threads to manage complex gaming and other programs and a maximum Turbo Frequency of 4.6GHz, the NVIDIA GeForce RTX 3050Ti with 4 GB dedicated memory can operate with full efficiency. 
The inclusion of the newly designed 5th generation AeroBlade 3D fan increases airflow while simultaneously helping to reduce operating noise.  The Predator Helios 300 also features CoolBoost, which prevents overheating of critical components while keeping your gaming performance at optimal levels. Containing a remarkable response time of 3ms and capable of displaying FHD at 360HZ or QHD at 165HZ, you can tailor your gaming experience as needed. 
Predator Triton 500 SE 16-inch Laptop 
An amazing all-around laptop for gaming, entertainment, and work purposes, the Predator Triton 500 SE is an incredible piece of technology. With VR Ready NVIDIA GeForce RTX 3060 6GB GDDR6 Dedicated Graphics, 11th Gen Intel Core i7-11800H 2.3GHz Processor and speeds up to 4.6 GHz, this PC can display and manipulate enormous amounts of data without breaking its stride. By including a 4-Cell 97 WHr battery, a 230W Power Supply, and 16GB DDR4 SODIMM of RAM, this laptop will let you multitask for hours and hours while enjoying the phenomenal speed. With a 1TB PCIe NVMe SSD hard drive, you also get 1 HDMI port, 2 Thunderbolt 4 (Type-C) ports, 1 USB 3.1 Type-C Gen2 port, a MicroSD card reader, and a headphone/microphone combination jack. 
No matter your purpose for buying a large screen laptop, these PCs will allow you to not only achieve your goals as a power user but give you greater control and capabilities than ever before. With lightning-fast processors, top-shelf GPUs and some of the largest high-quality screens available, you will have untold digital power at your disposal. 
Joe is a writer with a passion for gaming, technology, and language learning. Joe has a knack for turning complex tech jargon into easy-to-understand prose. He's a lifelong gamer, having grown up playing classic console games like Super Mario Bros. and The Legend of Zelda, and now enjoys exploring the latest virtual worlds on PC. His interests don't stop there – he's also an avid language learner, currently studying French and Portuguese in his spare time. Whether he's writing about the latest gaming trends, reviewing cutting-edge tech products, or sharing language learning tips, Joe brings a fresh perspective and infectious enthusiasm to everything he does.
Tagged:
Comments
Stay Up to Date
Get the latest news by subscribing to Acer Corner in Google News.